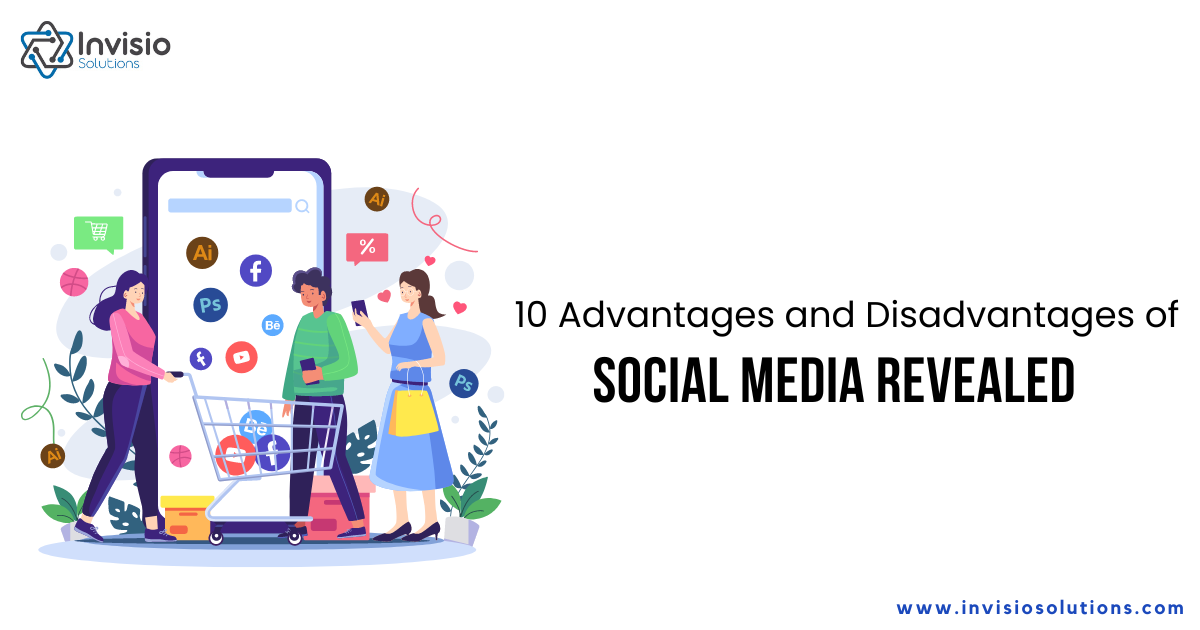 Media is diverse and unique, which has become part of daily lives. More than 4.7 billion people across the world use social media, which is equitant to 58.4% of the overall world's population. Social media is not just about posting your daily activities, photos, and interesting information. Over the past decade, social media has evolved from an immature kid's toy to a mature engagement and trusted marketing channel for marketers all over the world.
The global stats of social media have astonished businesses all over the world. And thus, it has been incorporated as a core marketing strategy for any business today. But social media is a double-edged sword. This means, along with tons of benefits, it does bring a few challenges for you too!
Are you planning to get help from social media to grow your business? Well, before you get into social media marketing, it is important that you understand the pros and cons of social media. This article will help you go through some of the key advantages and disadvantages of social media. So, let's take a look at it.
Advantages of social media:
Better Connectivity. One of the most fundamental advantages of social media is connectivity. It has the capacity to instantly connect an infinite number of users from anywhere. Social media's connectivity makes it possible to transport information across the globe, and it has never been simpler to build relationships with others. It ties individuals together globally.
Leverage the organic content. One of the biggest advantages of social media for businesses is that it brings immense possibilities to share organic content and that too without any charges. This empowers businesses to get quality leads without compromising the quality and this is the main reason why businesses prefer social media. You can keep posting relevant and interesting information to feed your target audience.
Based on the social media platform you are using, you can either post photos or videos of your products or can share meaningful content. This is in a way a unique approach to introducing your brand to potential customers and making them familiar with it.
Gain access to paid advertising. With social media platforms, you will always have the option to start a paid advertising campaign for your business. There are enormous paid advertisement options available and supported by each social media platform. Based on your need, you can choose the best fit and start paid ads on the go.By running paid advertisements, you can easily get in touch with your intended audience, specifically those who fail to find you easily over the internet with free ads. Moreover, you can even customize the ads on social media based on the interests of your audience so that they can know more about your products or services.
Helps build your brand. It is always crucial to establish a strong brand presence in the market, and social media marketing helps you with it on the go. It becomes very easy for you to introduce your brand to the intended audience and increase brand awareness with organic content.This way, more and more people will get familiar with your brand and will be exposed more to your offerings. Customers tend to purchase quickly when they come across known brands and social media marketing will help you make your brand familiar to them, which will increase overall conversions.
Drive more traffic to your business site. Social media is a fantastic tool for increasing website traffic for your company. You can post material with a link to your website on the majority of social networking sites.You can easily encourage the target users to click on your link by providing meaningful and informative information. This points them to your website so they can find out more about your company there. It's a fantastic chance for you to introduce your company to a wider audience. They can look at your website to find out more about your offerings.
Disadvantages of social media:
Negative Impact on business due to feedback. There is no denying that social media is useful to share meaningful information, but it is often used to share negative information too. If your customer has a bad experience with you, it will be easy for them to share their experience on social media.This unfavorable commentary takes many different shapes. It is possible that someone can submit a negative review and share it on the social media sites like Facebook. It will in the end affect the prospects as they will see such negative reviews or comment about your business.
Creating barriers in social-emotional connection. Social media becomes a medium to carry social and emotional connections. Through social media, everything has been confined to written communication, including greetings on important occasions and thinking expressions, which has caused a loss of sincere connections and feelings.
Security and privacy issues. Security organizations today have access to users' personal accounts. Consequently, privacy is all but compromised. You never know when an investigation officer might come to your home to ask you questions about something you unintentionally or mistakenly discussed online.
Cyberbullying is a major problem. One of the biggest downsides of social media is cyberbullying. It is nothing bullying someone on the social media platforms. It is often found that some people use fake or fictitious social media accounts with the intention of teasing someone.They are untraceable and liberated to act however they like. Such people often trouble others with offensive photos or videos and by making fun of them on social media platforms. By using social media, bullying is further facilitated. By making offensive comments and taunting people in various ways, they make other people feel uneasy. Teenagers and young children are the main targets of cyberbullying. Cyberbullying causes desperation, anxiety, and severe stress-like symptoms in the victims.
Addition of social media. People's health problems have been related to excessive use of social media platforms. Their frequent usage of social media platforms throughout the day and night causes them to become sedentary.Addicted social media users become inactive and put on weight. They didn't like playing games or exercising outside or going on walks. They are on social media all the time. This exposes individuals to a variety of hazardous illnesses and produces a host of issues with their daily health practices.The bottom line…These are the benefits and drawbacks of social media based on in-depth research and analysis. We hope you find it useful.Without social media, the world would move much more slowly, but it has also had some beneficial and detrimental effects. It is said that information must be shared for people to fully utilize its potential because knowledge is power. However, if not utilized carefully, it can be perilous and frightening.Sharing's ultimate purpose is to motivate others to access, engage with, and contribute to the information. As long as the content is pertinent and there is a continuing need for information, it is always advantageous for any organization to use social media to sustain publishing. Take a look at how the Inivisio team can help with your social media marketing.SMC: Looking for detailed social media advantages and disadvantages? Click here to know the positive and negative sides of social media.