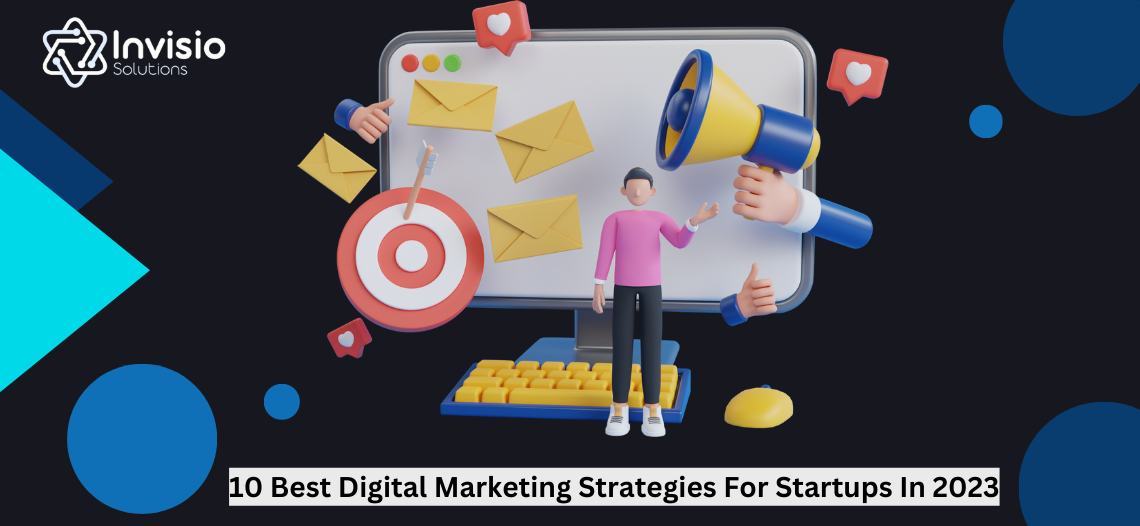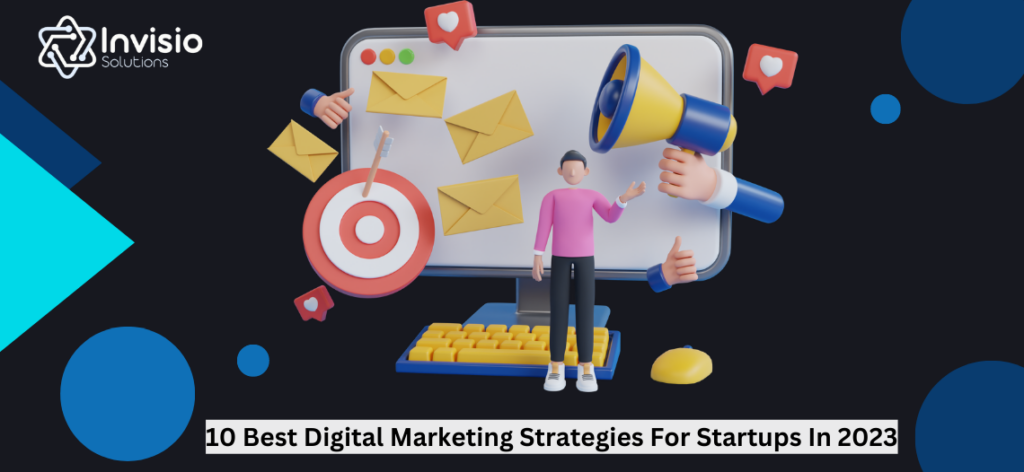 Startups and small businesses might not have the resources of a global firm, but that doesn't mean they can't win out over their competition. They simply need to create a clever marketing strategy. Small firms will therefore need to wage their wars using cutting-edge digital marketing techniques.
Ten digital marketing tactics for startups in 2023 will be examined in this blog. Everything will be covered, including influencer marketing, email marketing, and marketing that is powered by artificial intelligence.
So let's get going!
1. Social Media Marketing
Starting a business and establishing a brand are both made possible by social media marketing, which is effective for both. It's important to build an online community with people who share your company's interests rather than focusing only on gaining likes or followers.
In a report by Social Media Examiner, 90% of marketers said that social media is crucial to their companies. 89% of respondents said social media had given their organisations more exposure.
The real question, though, is how to make the most of each social media platform to promote your company as widely as possible and have your social media campaigns be a success.
a. Improve Your Approach
You must select a tactic that will help you stand out from the competition. People spend countless hours on Facebook and Twitter, but they rarely pay attention to everything that appears in their newsfeeds. You must do something extraordinary if you want to catch everyone's attention.
b. Improve Your Social Media Profiles
Whenever you are creating your social media profiles, use long-tail keywords and phrases. Because these terms are more likely to turn up in Google search results, there will be an increase in search engine traffic. Additionally, long-tail keywords make it simple for users to find your pages on social media platforms.
c. Establish The Customer Persona
Making a social media strategy without knowing who your target audience is is like throwing darts while wearing a blindfold. The target may be hit, but it will probably be by accident. A social media strategist who doesn't do this hasn't done their due diligence, and the results will show it.
2. Influencer Marketing
Marketers today are searching for novel and distinct ways to promote their goods. One of the most economical ways to do that is through influencer marketing. It's a strategy that can raise brand awareness, boost traffic, and boost sales.
Both the brand and the influencers benefit from it. Businesses can use their social media presence to connect with their target market. Influencers can also receive a portion of the profits in exchange for promoting them.
Some Advantages Of Influencer Marketing
Reaching consumers has gotten harder as digital marketing channels have become more crowded. Most people no longer even pay attention to traditional marketing channels due to the countless advertisements we see online and the countless emails we receive every day.
Influencer marketing is less expensive than other types of advertising, according to a Trackmaven study. According to the study, recommendations from friends and family are the most effective form of marketing because 90% of people believe them to be trustworthy. However, when it comes to brands, word-of-mouth advertising and influencer marketing tied for second place in terms of consumer trust.
Influencer marketing is a potent strategy for fostering connections and raising brand awareness, but it's also simple to use. You can immediately begin using influencer marketing if you comprehend and adhere to the steps listed below.
Your brand should first compile a list of influential people in your sector who have fans from your target audience. Then, make contact and establish a social media connection with each of these people. The next step is for your brand to develop a campaign with each influencer to spread the word about your goods or services in return for payment.
A good consultant will also want to know who your company's social media rivals are when developing a business's social media persona. This is essential because, in order to succeed, you must learn from your competitors' successes.
3. Content Marketing
No matter what kind of content you produce—a blog post, an infographic, a deck, etc.—each piece should enhance your brand. The buyer's journey's various stages are followed by the practical content strategy as it is planned. By doing this, you can make sure that the content you produce is valuable to both your current and potential customers.
You can create more content for your website's blog and social media channels with the help of content marketing, a useful digital marketing strategy for startups. Your SEO and SMO efforts are supported by content marketing as well.
Boost brand awareness
bolster your connections
Make your brand known.
Boost the trustworthiness of your brand
top in your sector
4. Affiliate Promotion
Affiliate marketing and influencer marketing complement one another. Both rely on people's influence to make sales. This is why your influencer campaign should include affiliate marketing, one of the most important digital marketing strategies for startups. An affiliate program's objective is to generate leads for your business. Affiliates operate similarly to commission-based salespeople. You get to choose how you want to pay them. Whether you want to pay them a flat fee for each product or on the basis of the sales they generate.
The best method for hiring affiliates is through affiliate recruitment software. It largely automates the manual process of seeking out and hiring affiliates who are appropriate for your brand. You give affiliates affiliate links so they can monitor sales. They can distribute these links among their social media contacts, who can use them to visit your website and make purchases.
5. Email Advertising
Email marketing has a 400% Return on Investment (ROI), making it one of the most important and cost-effective ways to grow a startup. That's a return of INR 40 on every INR 1 spent. Thus, among the many effective digital marketing strategies, email marketing is particularly useful for new businesses.
If you're just getting started with email marketing, consider the following three pointers:
When your startup (or product) is ready to launch, you can let your users know by using a "coming soon" or "launch soon" web template.
Offering early access to your software or hardware in exchange for email addresses is a win-win.
Free trials, demos, reports, and e-books are all great ways to get people on your email list.
6. Search Engine Optimization (SEO)
SEM is one of the best digital marketing strategies for new businesses because it yields quick results (Search Engine Marketing). If you advertise on search engines, your startup will get more attention and, ultimately, more sales.
The time it takes to get results is zero.
People you want to hear from can be easily reached.
If no one interacts with your ad, you incur no cost.
You can start with as little as $10 per day and stop whenever you like.
Your search engine optimisation (SEO) and other marketing efforts will benefit from complete data and insights.
SEM budgets can be quickly depleted. If you want your startup to reap the most benefits from a search engine marketing campaign, you'll need to hire someone with experience in the pitch. Consequently, SEO is a complex part of a digital marketing strategy for new businesses. So, start slow and with a small budget so you can learn the ropes.
7. Optimize for Search Engines
You can forget about being seen online without search engine optimisation. Obtaining free, unpaid exposure through search engines is what this refers to. The more blogs you have linking to your services pages, homepage, and landing pages, the more traffic you will get from search engines. As a result, SEO is a cost-free means by which startups can expand their clientele.
SEO's Value in Digital Marketing for New Businesses:
Long-lasting results with a high return on investment
Grow your following naturally.
Quickly gain acceptance and respect
Make a name for yourself as a reliable product.
8. Advertising on YouTube
Google comes in at No. 1. You might not expect YouTube to be the second most used search engine after Google. There are currently more than 265 million regular users of YouTube in India. This highlights the importance of a company's YouTube channel in reaching its demographic.
However, many businesses still don't incorporate YouTube marketing into their overall strategy, at least in my experience. A well-thought-out YouTube marketing campaign could do wonders for the promotion of your startup. It's no secret that companies like Flipkart, Hyundai, Asian Paints, and Pepsi have benefited from YouTube Marketing.
9. Create a Google My Business Profile
Before making any kind of purchase decision, people look it up on Google. People will likely research your startup online before doing business with you because they don't know you well enough. Therefore, creating a Google My Business page for your company should be part of your digital marketing strategy for a new business.
10. Use a Robotic Process Automation Tool
Since you're just getting started, you might not have the funds to bring on a large staff just yet. A solution is to use automation tools that will facilitate your work. This equipment is useful for completing routine tasks that don't call for your full attention or originality. The time saved can be put to better use elsewhere, such as in brainstorming and planning for the company.
The five most effective digital marketing tools for new businesses are as follows:
With MailChimp, you can make amazing email marketing campaigns.
As an inbound marketing platform, Hubspot
Landing page optimisation software "Unbounce"
Colibri: The traffic is too posh
Canva: a free online tool for making stunning graphics.