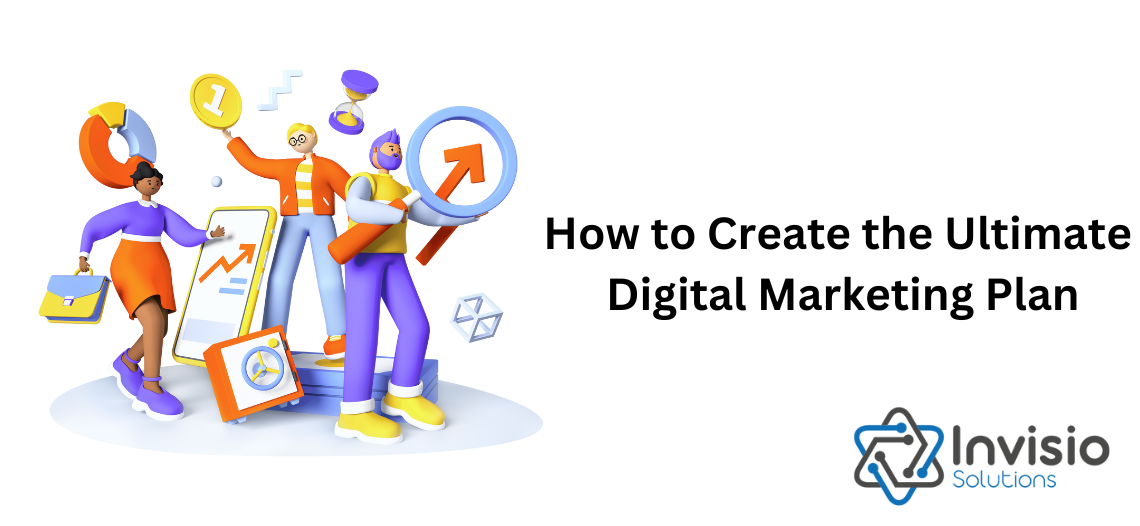 Organizational marketing departments now revolve around digital marketing. Simple: greater reach, better conversion rates, and higher revenues. This demonstrates why digital marketing has grown to be so important in today's marketing environment. This power, though, is useless if it is not properly optimised or strategically planned. You need a digital marketing strategy to increase your revenue, whether you run a small business or a large corporation. Let's first define digital marketing strategy before talking about how to create a plan for it in a business.
A strategy for digital marketing can be thought of as a way to carry out those goals. It is a course of action designed to accomplish the predetermined goals. When digital marketing strategies are executed properly, they aid in increasing traffic, generating leads, and business growth.
Why are Digital Marketing Strategies Important?
Having a strategy to achieve a goal is very crucial. It helps optimise the workflows and review data analytics, which leads to continuous improvement in digital marketing plans.
Provides Direction:The companies that do not have a digital strategy do not have any clear goals. Digital marketing strategies provide a clear direction to the companies to achieve their long-term goals.
Cost-effective:Digital Marketing is cost-effective as it brings yields, better ROI on the investments made. Promoting through traditional marketing channels like televisions is very expensive.
Ease in Measuring Results:It is very easy to track digital marketing efforts. By using digital marketing analytic tools, it can easily be measured how people engage with the promotions done by the company. The data is collected even when a click is made, which helps reach the target market with much ease.
Builds up a reputation:Digital marketing creates a positive image of the brand. It creates an opportunity to generate more leads and convert more potential customers.
Guarantee the brand's survival:Initiating a business is challenging but maintaining it and running it in the market is even more challenging. Digital marketing ensures that the business runs and reaches maximum customers. People are very active on the Internet, making it easier for the customers to reach a vast number of people. As per Omnicore, there are more than 500 million daily active users on Instagram.  In addition, people spend one in every 6 minutes on online platforms.
How to make a Digital Marketing Plan?
A Digital Marketing plan is a document that shares the details about all the company's digital marketing campaigns. These details include business goals, strategies to achieve business goals, digital channels, action plan, and budgets set for the campaigns.
Here are the steps which are required to create your digital marketing plan:
Brand definition
To commence, a brand definition is to be set, which displays the Unique Selling Points and background of the brand so that it can be pitched to the target audience. That establishes the image of the brand, which let the customers choose you over competitors.
Build Buyer Personas
Buyer personas can be understood as a description of your target audience — a kind of fictional group that carries the potential customers' characteristics. For creating buyer personas, you need to have information like Location, Age, Income, Interests, goals and more about the customers.  This information will assist in forming the ideal buyer persona. 
Once, a buyer persona is formed, you can easily identify your target audience in order to run the campaign. For example, if you own a cosmetic store, you will have an individual buyer persona for men and women. Buyer persona would help you create the campaign to display the most relevant marketing messages to the target audience. 
Setting goals and Objectives
Before starting the campaign, a goal should be set to ensure the performance tracking of the campaign. The goal can be to increase the conversion percentage or gain more leads or visitors to your website. The goals should be measurable and attainable at a specific time. For example, instead of saying, "We will generate 1000 leads", say instead, "We will aim to generate 1000 leads in the next six months". This will help you to attain the goals faster.
Plan for Content
You need to generate an idea for the kind of content you are going to use through your campaigns. A content calendar can be made, and the content can be planned accordingly. The content should be specifically focused on the buyer persona. Relevant and highly searched keywords should also be planned. You can consider taking up a Digital Marketing Course to understand everything in detail.
Selection of the Digital Marketing Channels
After setting up your goals, you need to select the channels through which you want to reach your target customers. The channels of digital marketing are the platforms that are used to reach the target audience for marketing the brands' products and services. There are different digital marketing channels, which can be used:
Search Engine Marketing
Email marketing
Affiliate marketing
Content marketing
Budget setting
Budget is the estimation of a business' revenue and expenses for a specific period. This will let you know how much you can spend on your campaign. The total amount to be spent should be assessed, and then it should be allocated between different channels. For example, if you have a budget amount of ₹ 50,000. It would be best if you thought of running your digital marketing plan within this amount. Usually, the companies spend 7-11% of their total revenue on their marketing.
Measuring Results of the campaign
Setting and running a digital marketing campaign is not enough. It is crucial to measure the results of the campaign to determine its success or failure. One can use Key Performance Indicators (KPIs) like social media mentions, website performance, conversion rate, organic traffic, Return on Investment and more to see whether the goals are met.
This provides an opportunity to alter the campaign if the goals are not met. The strategies can be changed in order to get better results. 
Today, a digital presence is a must for any business. This would bring the customers to the offline or online store and increase the reach of the business. For an online business, it is the only way of getting visitors to your website. It might be challenging to develop a digital marketing plan. However, clear goals and realistic plans will help you create a good Digital marketing Plan.