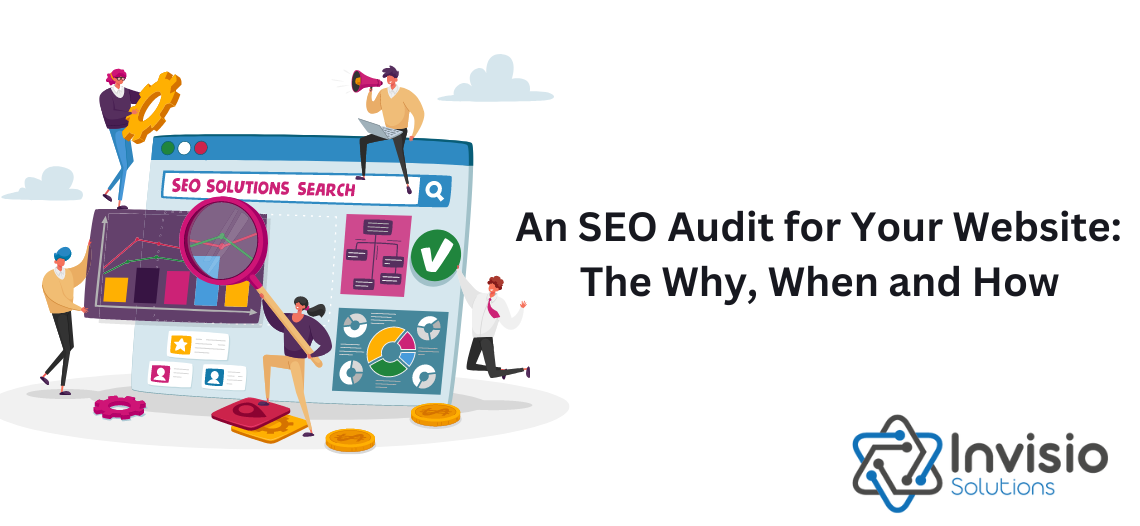 Knowing where you are allows you to begin SEO. Because they clear the way for improved rankings and increased organic search traffic, SEO audits are useful.
Although SEO is a crucial component of digital marketing, it can be challenging to identify where and how to allocate budget for the approach.
The SEO audit can help with that.
An SEO audit analyses your website objectively to determine how it stacks up. In addition to being a helpful tool for ongoing SEO maintenance, it's frequently the first step toward healthier SEO. So let's discuss SEO audits and find out why it's time for your company to conduct one.
Describe an SEO audit.
In order to create an implementation plan with quantifiable results, an SEO audit is the process of evaluating how effectively your web presence connects to best practises.
An SEO audit examines two key aspects of your website's internet presence. How well your website measures up to SEO recommended practises is the first factor. The second is how well your website compares to the online presence of your rivals.
So an audit provides an answer to the following:
How "excellent" is the SEO for my website?
And a good audit goes one step further by providing a response to the following query:
How can I improve the SEO of my website?
Tips for PRO
Yes, you can technically conduct your own SEO audit, according to SEO audit advice. Google Analytics and Google Search Console are used by many small firms as monitoring tools.
You won't, however, get the whole story. This is so that you can see how many 404 errors your website has, even with the most basic SEO tools. However, producing an effective action plan from cold data requires the expertise of an experienced agency.
Why is an SEO audit necessary for my business?
SEO must begin RIGHT NOW if you want your firm to last and prosper in the long run. This is because SEO doesn't happen (often) overnight.
Google takes a moment or two to identify and appreciate the adjustments you make to your website. Additionally, while bots are crawling your website, your rivals are also enhancing their SEO.
The only way to begin an ongoing process like SEO is with an audit. After all, if you don't know where you are, how can you know where you're going?
Tips for PRO
Here's an SEO insider tip. Many companies simply spend money on ONE audit. But the procedure doesn't end after one step. Instead, continuing and frequent SEO audits are required. This enables companies to respond swiftly to significant algorithm updates and gain an advantage over rivals.
What is an SEO audit composed of?
A good SEO audit includes:
Comprehensive
Simple to comprehend
Actionable
Your audit should include a status report that outlines your company's current situation AND a long-term strategy. Therefore, the message is more "here's what's going on, that's where to go, and here's how to get there" rather than "wow, that's a lot of broken links."
Therefore, comprehensive SEO audits should cover these six essential elements:
#1: Technical audit
Technical issues are discovered by an SEO audit. Critical problems including 404 error pages, broken links, and duplicate material are included in this. Technical problems have a direct impact on the ranking parameters used by search engines like Google. And the reason for that is that "worse than ideal" user experiences are caused by technical problems.
#2: An impartial audit
An SEO audit should also take your competition into account. This analysis of rival websites is sometimes referred to as a competitive audit. When compared to other websites, doing this reveals what you're doing well and where you may make improvements.
Let's imagine, for illustration, that you run a barbershop. Your website lacks a substantial blog with tonnes of high-ranking content, unlike that of a rival store. The competitive audit can reveal improvements that can be put into practise.
#3. Content analysis
Content audits examine the structure and content of your website, from individual landing pages to blog articles. In-depth elements like page titles, meta information, and picture ALT tags are also examined by these audits.
Because seemingly insignificant issues like missing ALT tags or too-short titles can have an influence on rankings, content audits are useful. We all know that lower rankings result in less traffic.
#4: Keyword exploration
Keyword analysis (should) be part of SEO audits. This frequently involves looking at your website to see which keywords you now rank for and which ones you need to.
Typically, this procedure also entails studying the competition. The audit looks at the high-ranking keywords of the direct rivals. Then, you can create content centred on those keywords in an effort to outrank your rivals.
#5: Link analysis
There is a link profile for every website. Whether or not that profile is robust now is a different matter. The short version is that a lot depends on the number and calibre of links pointing back to your website.
High-ranking websites that are pertinent to their niche frequently connect to websites with extensive backlink profiles. Let's go back to the barbershop as an illustration. In such scenario, obtaining backlinks from reputable websites that publish articles about hair, styling, salon trends, etc. is a must.
To "plug in the gaps" with better external links (or internal links! ), the link audit evaluates the strength of your current profile.
#6: Core Web Vitals
Today, SEO involves more than just content and keywords. In actuality, Core Web Vitals are a crucial component of SEO that should be taken into account. In essence, Core Web Vitals measures a website's responsiveness to user input, page speed, and how quickly information loads (like filling in a form).
Your website will be more navigable and will rank higher in search results the healthier your Core Web Vitals are. In such situation, it's critical to be aware of the locations of those blind spots, which a Core Web Vitals check identifies.
Final words on SEO audits
An efficient SEO audit should provide you with more information than just a thumbs up or down. Actually, SEO audits are the first significant step in enhancing a company's online presence. They are, however, also a vital SEO maintenance tool. An overview of all this manual covers is provided below:
SEO audits should highlight your website's strengths and flaws and provide practical tips for how to improve.
SEO audits should be a continuous investment for businesses because it doesn't "happen overnight."
Technical, competitive, content, keyword, link, and Core Web Vitals evaluations should all be included in SEO audits.
To find out more about SEO and why it's so crucial for long-term success, visit the Invisio Solution Creative blog.
Ready to spend money on an SEO assessment right away? Make an appointment with an SEO professional right away.